In this article, you'll learn how to use the integration between Certn and the Lever Applicant Tracking System to request and manage Certn background checks and verifications directly from the Lever platform.
This article is for those who want to learn how to use Lever's platform to request background checks via Certn.
Before you start using the Certn-Lever integration, ensure that the setup has been completed.
How to run the default background check on a candidate from Lever.
To run a Certn background check using the default package created during setup, advance the candidate (a.k.a the "opportunity" in Lever) to the trigger stage. When the candidate is moved into the trigger stage, Lever sends the candidate's details to Certn, who in turn sends an email to the candidate with a secure link where they can provide the information required for the background check(s). Certn updates the candidate's tag on Lever to reflect the status of the background check. When results are returned (partial or in full), a link to the pdf report will become available for viewing.
What do the status tags mean?
| | |
| --- | --- |
| LEVER TAG | Description |
| CERTN - Pending | Check has been sent to applicant and is awaiting their response |
| CERTN - Analyzing | Applicant has completed the form sent to them and Certn is working on completing the check |
| CERTN - Partial | Some results are available for viewing and some are still in progress |
| CERTN - Complete | All checks requested have been returned and results are viewable on report link |
| CERTN - ERROR (No Email) | There is no email attached to the candidate. Add the candidate's email address and move them into the trigger stage again. |
Overriding the default package
During the integration setup, you set one of your created packages of checks as the default package (in Certn's dashboard). For example, in the screenshot below (taken from Certn → Settings → Integration → Lever), "crim record & motor" is the default package. This package will be ordered for any candidate that is advanced into the trigger stage (in Lever), UNLESS a different tag, e.g. "OneID only" as per the screenshot below, was added in Lever prior to them advancing into the trigger stage.

To add a tag to a candidate in order to run a non-default package on them, select the candidate, and add the non-default package name in the "tags" field (see below). In our example, this tag would be "OneID only".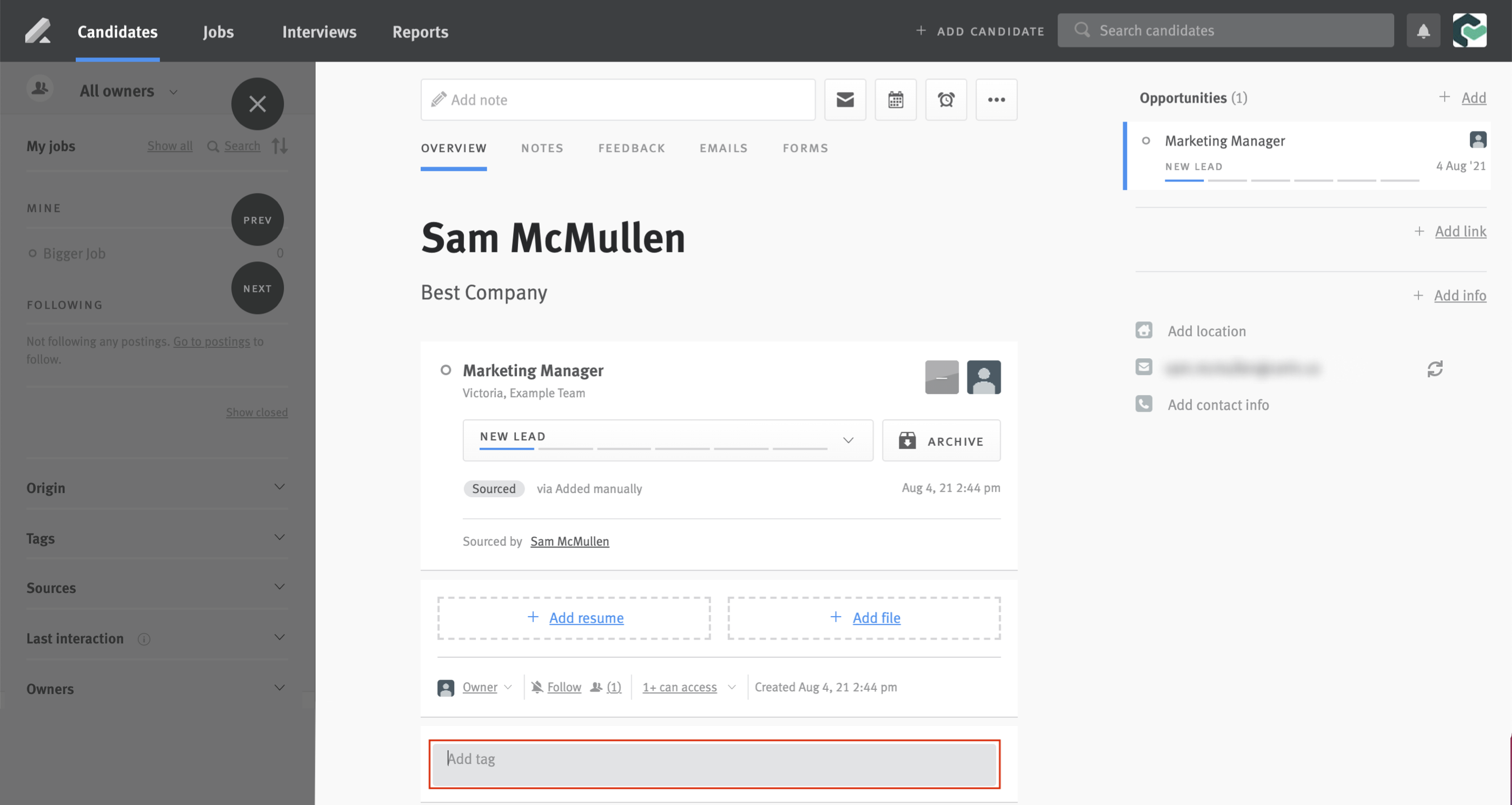 Tip: Adding specific tags to a job posting means that all candidates that apply to that posting will inherit that tag. Find more information on adding tags here.