Option 1
In the dashboard, click on the top-right Screen applicant button.

On the next page, select the checks you want to run (from the section on the left) by clicking on the + next to the check (1). As you select checks, the summary on the right-hand side provides the total cost and estimated turnaround time for the collection of checks. When you are satisfied with your selection, click on Continue (2).

On the next screen, you may have an option to send the application to your candidate via email or to fill in the candidate's details on their behalf. Note: some checks can only be filled in by the candidate.

Click on the tabs below to see instructions for each option.
If you choose to send the application to the candidate via email:
fill in their email address,
choose the language for the application,
add a message to your candidate,
review any conditions for the background check application, and
click on Send application.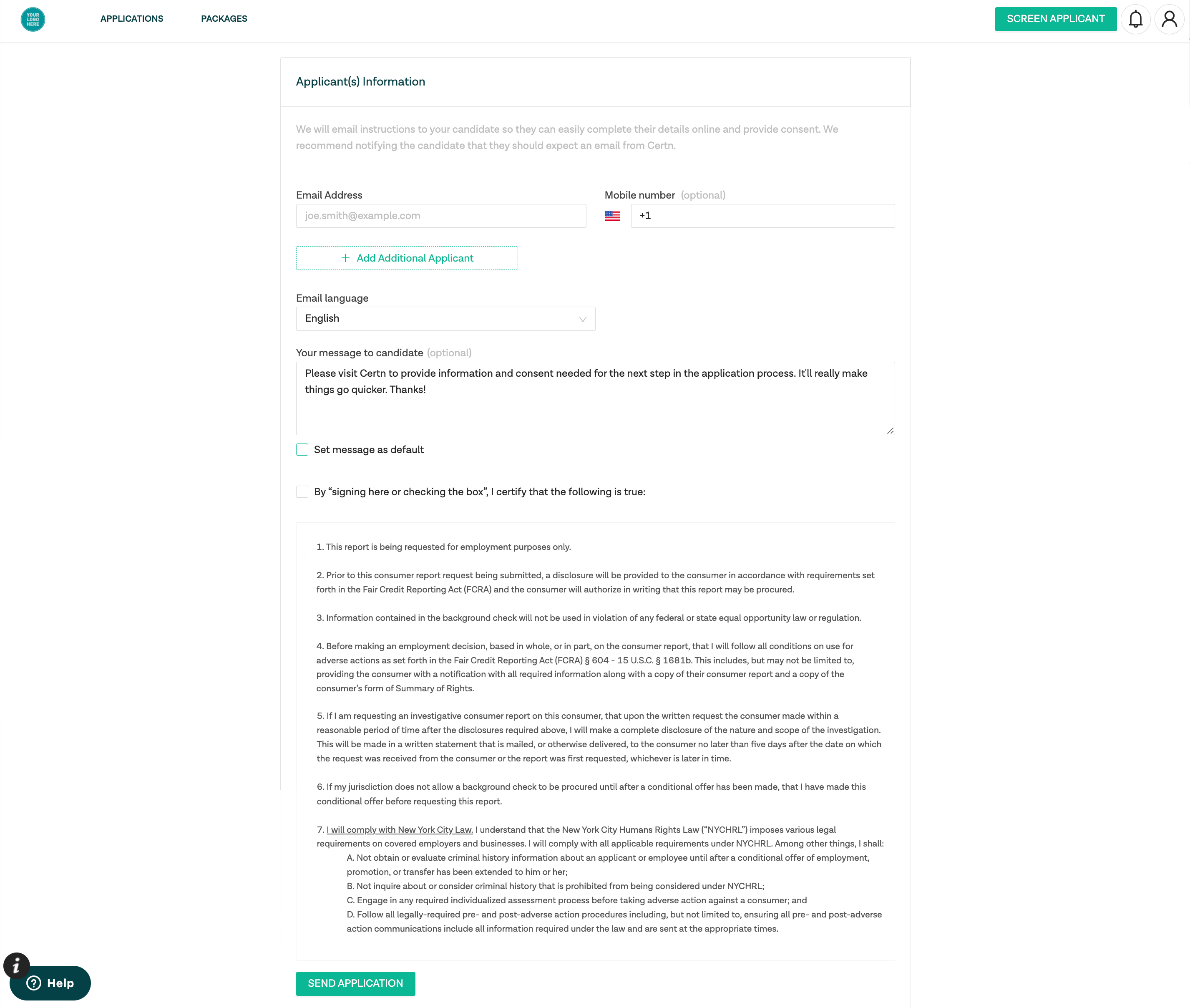 *HR clients can use the "Add additional applicants" to enter multiple email addresses to screen applicants "in bulk". PM clients should ONLY use this functionality to add a co-applicant(s) to the first applicant!
If you choose to fill out the candidate's application on their behalf, you will have to enter all the required candidate information. For example, for a criminal record check you will have to provide the candidate's personal identifiable information (full name, date of birth, country of birth, state/province of birth, city of birth, sex at birth, email address, and phone number), address history, criminal history (if any), images of their photo ID, and their signed consent. Detailed instructions are available on the dashboard.
Once you entered all the required information and uploaded the required forms and images, please review the information for accuracy, then click on Submit.
Option 2
Requesting a different package of checks for each of your candidates is easiest to do from the packages page.
At the top of the page, select the Packages tab.
To the right of the package, select the actions button, and select Send Application from the dropdown list.

In the pop-up, provide the candidate's email address and the language of the application, then click Submit.

If you encounter any issues, or have any questions about the screening process, please reach out to your Account Manager or our Support Team for assistance.