In this article, you'll learn how to use the integration between Certn and the Fountain Applicant Tracking System to request and manage Certn background checks and verifications directly from the Fountain platform.
This article is for recruiters who want to learn how to use the Fountain platform to request background checks via Certn.
Before you start using the Certn-Fountain Integration, ensure that:
you have both a Fountain and a Certn account;
the Certn-Fountain integration has been set up.
Set up a background check stage
On the Fountain landing page that shows your list of job openings, select the job that you want to add a Certn background check stage to.

In the next screen, click Settings (top right), then click Edit Workflow.

Create a new stage in your workflow by: (1) selecting the Workflow tab, (2) clicking on Add stage, and finally (3) Create New Stage.


Enter a title for this stage. Select Certn Background Check as the Stage Type, and select at which point during the application process you want the background check to happen. Finally, click Add Stage.

This stage should now appear in your workflow.

Click on this Background Check stage in your workflow to edit the settings (1). Select the background check package created during setup that should be sent to the applicant when they arrive at this stage (2).

If no packages appear in the dropdown menu, make sure that you have created at least one package in your Certn Dashboard according to the setup instructions, then click Refresh options from Certn.

Select any automated actions you want to take. For example in this screenshot, we will move the applicant to the next stage when the Certn background check status is in progress.
Your stage is now active in your workflow. Applicants that apply for this position will automatically be sent an invitation for a Certn background check. You can learn about the applicant's experience from the applicant's user guide.
View the background check results
When a background check has been submitted to Certn, a tag will be added to the candidate. This tag displays the status of the background check (for example, "pending action" or "complete"). To view the results of the background check, click on the tag, then View Report. You will be redirected to the report in Certn's platform.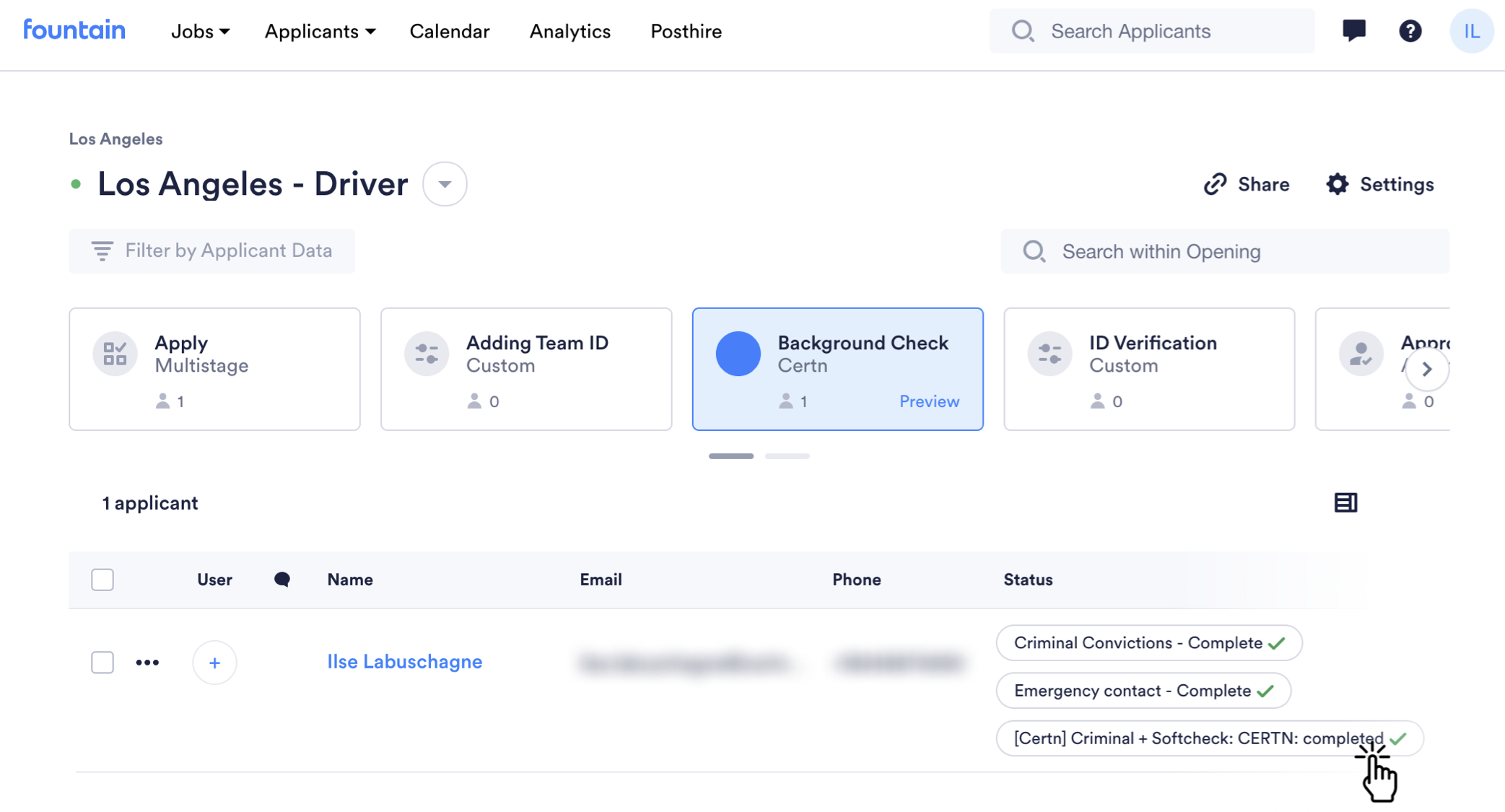 What do the status tags mean?
The status tag will tell you which background check package was ordered for your candidate, and how far along the check is:
| | |
| --- | --- |
| Fountain tag status | |
| waiting | Waiting for candidate to submit their application. |
| in progress | Candidate has submitted their application and Certn is processing the results. |
| completed | Background check is complete. No problematic results have been returned. |
| pending action | Background check is complete. Results should be reviewed. |